NTU VIRAL: A Visual-Inertial-Ranging-Lidar Dataset for Autonomous Aerial Vehicle of the Future
This site presents the dataset collected on our research Unmanned Aerial Vehicle (AV) platform, featuring an extensive set of sensors:
Two 3D lidars
Two time-synchronized cameras
Multiple Inertial Measurement Units (IMUs)
Four Ultra-wideband (UWB) nodes on UAV, ranging to three anchor nodes.
The comprehensive sensor suite resembles that of an autonomous driving car, but features distinct and challenging characteristics of aerial operations. The flight tests are conducted in a variety of both indoor and outdoor conditions.
Downloads
| Name | Download Link | Size | Duration | Remark |
| --- | --- | --- | --- | --- |
| eee_01 | DR-NTU server | 8.7 GB | 398.7 s | Collected at the School of EEE center |
| eee_02 | DR-NTU server | 7.0 GB | 321.1 s | Collected at the School of EEE center |
| eee_03 | DR-NTU server | 4.3 GB | 181.4 s | Collected at the School of EEE center |
| nya_01 | DR-NTU server | 8.6 GB | 396.3 s | Collected at the School of Bio. Science |
| nya_02 | DR-NTU server | 9.4 GB | 428.7 s | Collected at the School of Bio. Science |
| nya_03 | DR-NTU server | 9.0 GB | 411.2 s | Collected at the School of Bio. Science |
| sbs_01 | DR-NTU server | 7.8 GB | 354.2 s | Collected inside the Nanyang Auditorium |
| sbs_02 | DR-NTU server | 8.2 GB | 373.3 s | Collected inside the Nanyang Auditorium |
| sbs_03 | DR-NTU server | 8.5 GB | 389.3 s | Collected inside the Nanyang Auditorium |
Sensor setup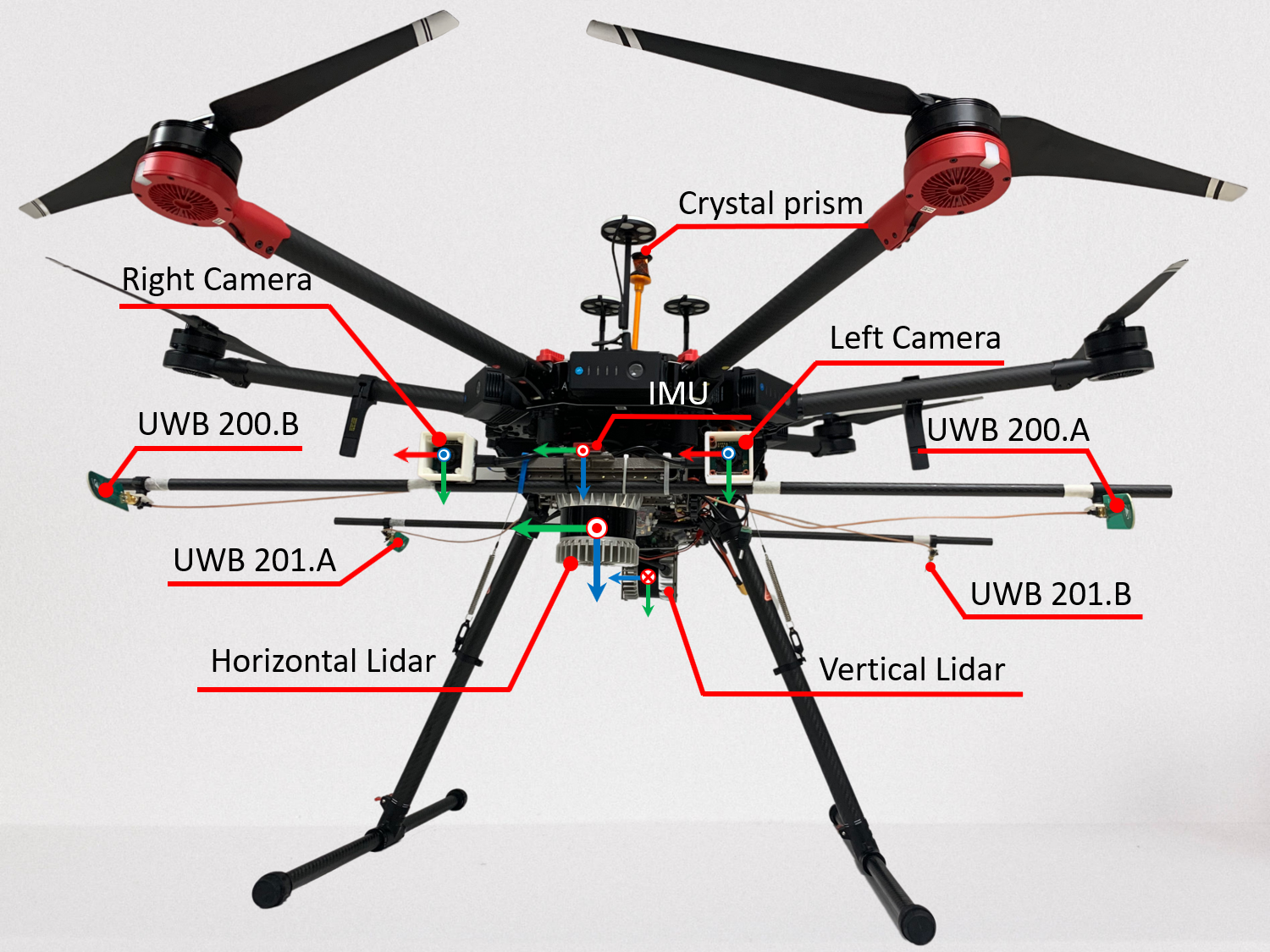 Aerial Vehicle with its sensors and corresponding coordinate frames